Alex Ovechkin scores his 600th NHL goal, making him 20th player to do it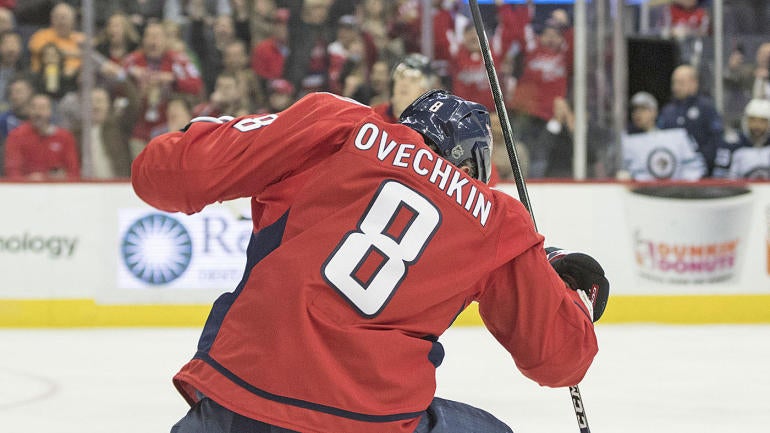 Alex Ovechkin is a future first-ballot Hall of Famer, and at this point in his career, the Capitals' legend is just stat-padding. Ovechkin scored the 600th goal of his NHL career on Monday against the Winnipeg Jets in the second period. He's the 20th player in NHL history to do it, and the sixth to do it with one team.
It wasn't a pretty goal. There was a scrum in front of the net, and Ovi was there, hacking away. He tipped an elevated puck in, and the crowd at Capital One Arena went nuts.
There were a few curtain calls, some chants of "Ovi" from the crowd, and once Ovechkin got a new stick (the goal-scorer had to be saved for posterity) it was back to business. The Capitals eventually won 3-2 in overtime. Not that it would have mattered if they'd lost at that point.
Ovechkin has been in the league for 13 years, and he doesn't look like he's missed a beat. He has 42 goals this year, one above Patrik Laine of the Jets for the league lead, and the two squared off last night. Ovechkin had both regulation goals for the Capitals, notching No. 599 in the first period on a one-timer with the Capitals owning a two-man advantage. Laine buried one of his own on Monday, but ultimately it wasn't enough.
Ovechkin has a lot of ridiculous goals throughout his career, but it seems right that this one comes in a scrum. Ovechkin is much more than a goal-scorer. He's a physical player that forces opponents to keep their head on a swivel in the neutral zone. Perhaps that's why his name doesn't draw the vitriol that some other stars' names can.
He joins elite company. The other players to score 600 with one team are Gordie Howe, Steve Yzerman, Mario Lemieux, Joe Sakic and Bobby Hull. In addition, he's the fourth player to score 600 goals in fewer than 1,000 games, joining Wayne Gretzky, Lemieux and Hull. It took Ovi 990 games to achieve the feat.
Now, for the Capitals, it's about looking forward and doing something that even Ovechkin hasn't done: Play in a Stanley Cup Final. The Capitals haven't made an appearance since 1998, when they lost to the Red Wings. Washington currently leads the Penguins by a point in the Metropolitan division with 85. The Caps are currently fourth in the East, and have a gauntlet to run that involves the Lightning, Bruins and Maple Leafs.
Read More